Jesus Saves Conjoined Twins From Death
After undergoing separation surgery on their second birthday, the boys recovered beautifully.
Jadon healed at a faster rate than his brother, who suffered seizures, heart problems and breathing issues.
Though it has been an emotional roller coaster, mom Nicole McDonald shared her love for her boys only continues to grow.
She posted an adorable video of the twins saying "Dada" while cuddling and babbling side-by-side. Both boys are recovering well and spent their Thanksgiving laughing, snuggling and teaching their parents the true meaning of being thankful.
Jadon and Anias have brought the McDonalds so much joy but when Nicole read the comment section of a CNN video featuring her boys, her heart was broken.
"My insides turned red as I read the cruel comments," she wrote to her Facebook.
One person commented, "Why didn't that mom just abort that creature" while another demeaned Nicole and said, "that retard mom thinks her children are perfect."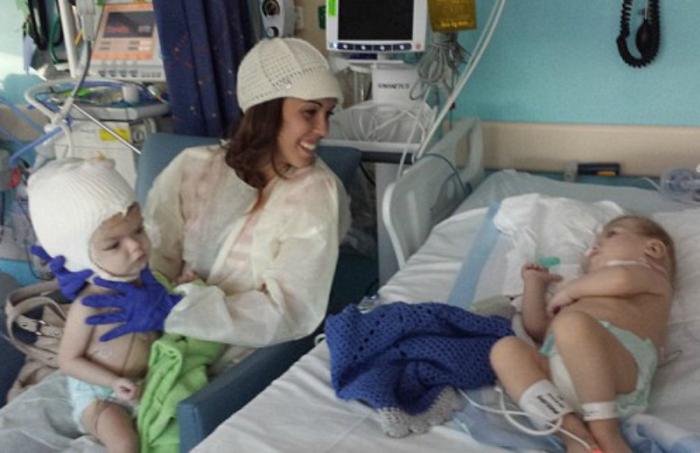 The boys are recovering well from the separation surgery (Nicole McDonald/Facebook).
The cruelty continued with one person writing, "That mom is in serious denial that monster looks like it came straight out of a nuclear area" and another claiming, "That woman should be sterilized."
Rather than responding with hate, Nicole bravely wrote, "I mourn for those people and their hateful hearts. Obviously this 'creature' should not have been 'forced' to be born and live such an awful life…#alllivesmatter."
The McDonalds have also been attacked for not working the first few years of the boys' lives.
She took to Facebook to share the family has been forced to care for Jadon and Anias full-time and the mounting medical bills continue to drain their already small bank account.
The couple has been surviving with help from generous donors, all of whom were thanked several times on her Facebook page: "All I can say is thank you…I never in my wildest dreams thought that I would be addressing people from all over the world but I am so humbled to have the opportunity.
"Our trial has been excruciating. I would not wish our circumstance upon anyone. But I would never wish it away either.
"Through the curse we have found many blessings. You are all part of the good that has come from something seemingly impossible. We love you."