Christmas miracle in Chicago – Dying baby saved by heroic stranger
When Daniel was born, he appeared just like any other child. He was beautiful, and his parents showered him with love and affection – then doctors discovered something was wrong.
Shortly after his birth, little Daniel was diagnosed with biliary atresia, which scarred his liver beyond repair and blocked the organ's bile ducts.
Daniel was seen at the Lurie Children's Hospital in early December and his liver function rapidly deteriorated.
His mother, Melody McCabe, told ABC 13, "His condition was worsening and becoming dire."
On December 13, at 10:15 a.m., Daniels' pediatric liver specialist, Dr. Saeed Mohammed, placed him on the liver transplant list.
Dr. Mohammed shared: "I think it was the best thing for him. He was deteriorating fairly rapidly, even for this disease, usually it's not so fast … and he really needed that liver as soon as possible."
Most people wait months or even years for organs, but God had something special planned for baby Daniel and his family.
The McCabes were waiting in Daniel's hospital room following the news and hoped a liver could be found quickly. Forty minutes after they were informed their son required a new organ, the doctor returned to the room.
Melody shared: "The doctor came into the room, and he was very quiet … and it felt like he was quiet for a very long time and I was expecting bad news."
But the news they received was anything but bad. At 10:50 a.m., less than an hour after putting Daniel on the donor list, doctors were informed an organ was available.
"I've never seen anything this fast," Dr. Mohammed shared.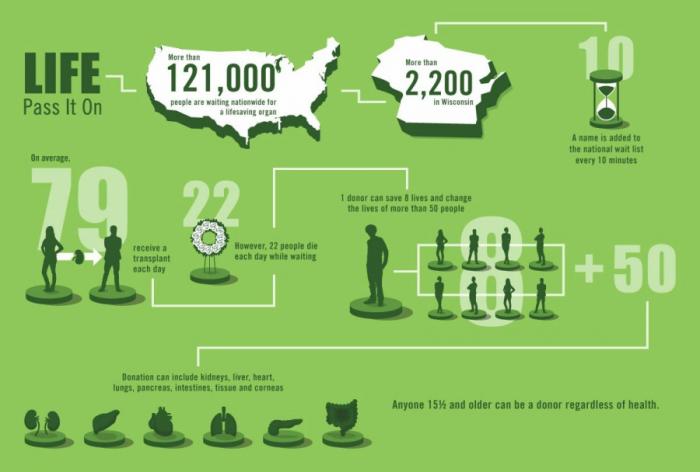 Donate life (froedtert.com).
"[W]hen he said, 'He has a liver' … I'm still in shock at how quickly that was," Melody added.
Dr. Riccardo Superina, one of Lurie Children's transplant surgeons, received the adult liver and carefully cut a small portion for Daniel. The rest of the organ went to a patient at another hospital.
A family somewhere, or perhaps just a hero with a donor sticker on their license, saved not one but two lives that day.
Daniel is recovering well, and doctors expect him to remain in the hospital until February, under close observation.
Chryl Sage, who received a kidney transplant following six years of dialysis, heard Daniel's story and told WTSP 10: "It's amazing that he got his liver transplant and only, I mean, less than an hour. He's only five-months-old and I just can't believe it. It's a miracle. Honestly, it really is."
Though Sage is a complete stranger to the McCabes, she felt connected by the miracle of being a donor recipient.
When McCabe shared: "I was just so sad for them [the donor and their family]. Then I was glad for Daniel. Then I felt guilty for feeling glad," Sage shared she could relate to the bittersweet feeling.
"It's just not [over]," Sage added. "He's going to have to take [anti-rejection] medications for the rest of his life and it's expensive."
Yes, baby Daniel will require medication to ensure his body accepts the donated organ, but he is on the road to recovery and should live a normal life.
Sage shared she was happy to hear he is doing well. She called his situation miraculous and will be sending him a card and toy to celebrate the happy occasion.